The OpenTok Platform
A suite of advanced capabilities that power real-time
communication for your websites and apps.
Record, archive, and access every OpenTok session.
OpenTok's Archiving API makes it easy to record your OpenTok sessions. Archives are easily evaluated through the OpenTok Dashboard, which displays size, status, date, and other essential information.
Rich with features
The Archiving API include a number of convenient features such as start-and-stop capabilities, server-side recording, and a simple, informative UI. Archives are pushed directly to your Amazon S3 account, with the OpenTok Cloud serving as a 72-hour backup.
High quality
Session recordings are output as MP4 with H.264 video and AAC audio to ensure crisp, high-quality playback. Our API automatically live-stitches video streams together for easy access with no post-processing required.
Cross-device compatibility & security
Archiving is compatible with all OpenTok-supported web clients and mobile endpoints. Whether you're recording on a PC, MacBook, iPhone, or Samsung tablet, your conversations will remain secure.
Industry leading
We're constantly striving to push the scope and power of the OpenTok Platform to deliver the capabilities you need in the real world. OpenTok is the first and only company in the WebRTC space to offer archiving capabilities.
"We've had a lot of demand from our students for the ability to review their past tutoring sessions, and even share those conversations with their friends. OpenTok's super simple Archiving API makes that possible. It seamlessly integrates into our existing OpenTok-powered application, and is helping us deliver the experience our customers really want, and need. We can't wait to launch it."
— Kevin Law, Co-Founder, Cambly Inc.
Straightforward pricing
Archiving has usage-based and seat-based pricing.For details please visit our pricing page.
Beyond text chat.
Our messaging stack allows users to distribute data between all endpoints.
Features include:
A highly scalable messaging stack for a vast range of applications, from updating a virtual white-board between multiple participants to simple text-chat integration
Adaptability to 1-to-1, multi-party, or broadcast scenarios, all supported by the OpenTok platform
Tight integration with the existing OpenTok platform, eliminating clunky integration with third-party APIs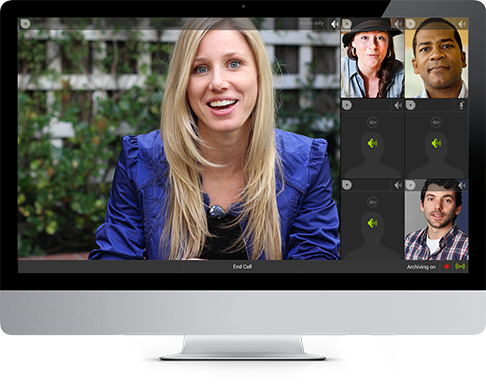 Intelligent Quality Control
Intelligent Quality Control (IQC) ensures a smooth and consistent experience for all users.
Features include:
Audio-only fallback and recovery for bandwidth fluctuations
Static resolution and frame-rate settings for optimal bandwidth allocation
Restricted frame rate for large groups and classrooms that require a large presence
Easy implementation and utilization
Advanced WebRTC connectivity.
OpenTok leads the industry with powerful and reliable connectivity.
The OpenTok connectivity features include:
An array of dedicated TURN servers for firewall traversal
A connectivity doctor and other tools to help network admins diagnose challenges and optimize their ecosystems for OpenTok
Code snippets demonstrating industry best practices for connectivity
Unparalleled connectivity solutions not provided by standard WebRTC
The OpenTok Android & iOS SDKs keep everyone connected.
Our cross-platform SDKs allow for seamless communication between web, Android, and iOS devices. They are packed with OpenTok's suite of industry-leading features and functionality.
Customizable Video Streams
Our Video Driver capability gives you the ability to insert any kind of content in addition to, or in place of, your device's camera without interrupting the OpenTok session. You can add HD streaming from a local network, briefly pause the video and snap a photo, add filter effects, and more.
Your Endpoints Supported
As the mobile market continues to grow, you need your applications to run on the wide range of devices that your customers use. And that's why we provide support for all of the latest iOS and Android device families, and latest chipsets like Intel's x86. For a complete list of supported devices, go here.
"Low latency, high quality, and encrypted video is a top priority for our product. The OpenTok SDKs are the only solution that meets and exceeds all of these requirements on both iOS and the web."
— David Cann, CEO, Double Robotics
Robust multi-party calling
Allow 5, 10, or even 20 users to participate in one session concurrently.
Multi-party video on OpenTok is enabled by:
Bandwidth strain mitigation, ensuring much clearer calls than with traditional WebRTC
Intelligent Quality Control (IQC) to provide an optimal experience for each participant
The OpenTok Media Router, which supports feature-rich calls
The ability to customize layout
IE: meet WebRTC
The same native WebRTC features enjoyed by Chrome and Firefox users are now available on IE with the OpenTok Plugin for Internet Explorer.
Benefits of the OpenTok plugin include:
Full support — Publish and subscribe to peer-to-peer and multi-party OpenTok sessions.
One-time download — Our plugin updates itself and requires just a single download. Once installed, you're good to go.
Full cross-browser compatibility — Communicate seamlessly across all major browsers, including Chrome, Firefox and IE.
Start connecting OpenTok with Internet Explorer
Learn how
Voice-optimized experiences
Whether on mobile devices or the web, voice-only experiences present their own unique technology and UI challenges. That's why the OpenTok platform has a comprehensive voice offering with those use cases in mind.
Through April 1, 2014 you can build voice-only experiences free of charge*. Pricing will be announced soon - stay tuned!
Capabilities include:
Audio Detection (through Audio Levels API)
UI indicators for audio activity and levels
UI optimized for mobile and web
More coming soon!
Real-time audio detection
Enabled by our Audio Levels API, our Audio Detection capability helps you create a dynamic live video and voice experience by making the current speaker's stream the focus of the conversation.
Whether it's for a virtual classroom, collaborative team metting, or for any multi-party scenario, Audio Detection capabilities make your app even more responsive.
Benefits include:
Ideal for multi-party scenarios
Create a more natural interaction between participants
Create a more responsive UX
Includes UI indicators for audio activity and levels
Start with OpenTok today.